PC Rewire / Source Nexus
Setting Up Rewire / Source Nexus (PC)
You may need to setup audio routing out of BaseHead into a DAW in order to use both BaseHead audio and your DAWs audio at the same time especially when using ASIO audio.
BaseHead offers integrated support to use either Rewire or the more recommended modern day replacement Source Nexus
We strongly recommend Source Nexus since Rewire has been discontinued and is unsupported by the developer now.
[Video] Using Rewire & Source Nexus (Windows)
Using Rewire
Rewire support is included with BaseHead and compatibility is installed when you install BaseHead. Your DAW needs to have Rewire support available for it to accept a ReWire connection from BaseHead and you need to have ReWire set active in your DAW so BaseHead can make a connection or you will receive an error "No ReWire host could be found…"
Set ProTools to Receive ReWire
Create an Aux Track then in the mixer for the new track, select an Insert Slot > multichannel plug-in > Instrument
BaseHead should appear as a source to select. Once selected you can then set what channels to receive audio from based on your setup
Set Reaper to Receive ReWire
Create an New Instrument Track and click on the FX button to open the device browser. Search for "Rewire" and load the BaseHead rewire device
By default the plugin will map the stereo channels to receive audio on, you can open the rewire plugin settings and configure this if required.
Set BaseHead to Output via ReWire
To set BaseHead to output audio via ReWire, simply activate the ReWire button on the main screen. This will now switch audio to use ReWire and you should see a confirmation message flash up in the lower right of BaseHead stating ReWire is now active
You should now be able to hear audio from BaseHead in your DAWs audio track.
Make sure you are monitoring your DAW and that you disable your DAW to release the audio driver when not in focus
Using Source Nexus
Source Nexus is a separate audio driver that you must purchase and install but unlike ReWire, applications do not need to have built-in support for it and it can be used for a wide range of applications where you need to send audio/midi between applications easily.
You can Download Source Nexus and test it without limitation for 15 days to be sure it will suit your needs. You will need an iLok account to activate your trial.
Installing Source Nexus
Download and install Source Nexus as usual being sure to select the plugin formats that will work with your host (VST3/AAX)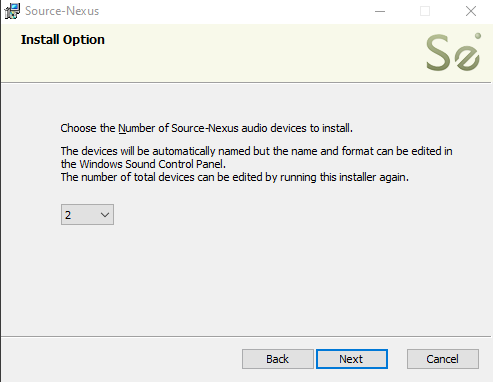 During the installation you will be asked how many audio devices you want to install. This is separate from audio channels. You can install up to 32 audio devices each of which can be setup to send/receive up to 32channels of audio. For our use we only need to install the default 2 audio devices.
Configuring Source Nexus Device
Source Nexus is installed as a typical Audio Device and will appear in your Sound Control Panel as a playback/recording device along with your other audio devices. BaseHead uses Source Nexus B device by default so we will need to make sure this is configured correctly: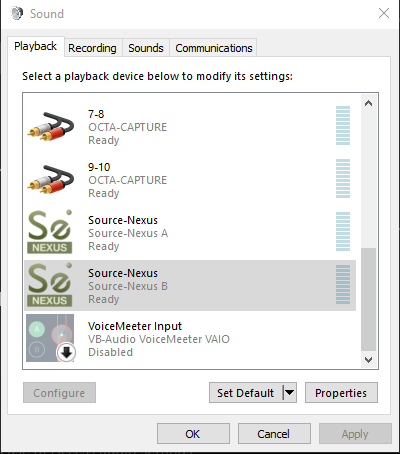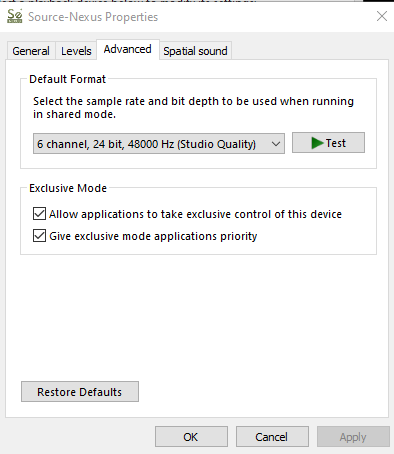 On the Playback tab, open the Properties and first check the Levels tab to make sure the device is not muted.
Next click the Advance tab and here you can set the sample rate, bit depth and channels you wish to use. 
Important
The Sample rate/Bit depth you choose MUST match the sample rate and bit depth of your DAW project settings. 
If you wish to send multi-channel audio from BaseHead into your DAW, you will need to select how many channels of audio to handle, otherwise we recommend simply to select 2 channel, 48000Hz, 24bit and make sure your DAW is also set to 48000Hz/24bit
You then need to switch to the Recording tab and adjust the Properties to match what you set in the Playback tab.
Adding Source Nexus to DAW
Source Nexus is added onto a track in your DAW as a VST3 or AAX plugin and will receive any audio output to the playback device.
Because your DAW will be receiving audio into a track it is important that you check your DAWs audio preferences and disable any option to "Release audio when not in focus" to avoid the DAW disabling the audio when switching back to BaseHead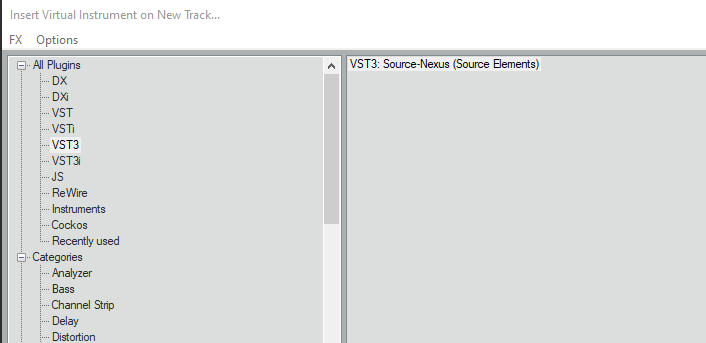 Add a new track in your DAW and configure the track for the number of channels you want to receive first. Depending on the DAW this process will differ. Search for the Source Nexus plugin and add this onto the track. 
There should be no configuration needed for the plugin but you can check the Receive button to make sure the Source Nexus B device is selected and the required channels appear.
Note that the number of channels that appear will depend on the setup done in the Windows Sound Devices playback settings. Additionally, the number of channels and the configuration you can select will depend on the setup of the track you have added Source Nexus to in your DAW. If the track is setup as Stereo, only 2 channels can be selected. If the track is multi-channel you will see individual channels listed and a signal meter for each channel.
Ensure your track with Source Nexus is set to monitor to hear audio that will be received by the plugin
Setting BaseHead to Output to Source Nexus
As of BaseHead 2021.12.18 you will find a Source Nexus switch on the main result list screen. Simply enable this to output audio to Source Nexus which will configure the audio output settings of BaseHead automatically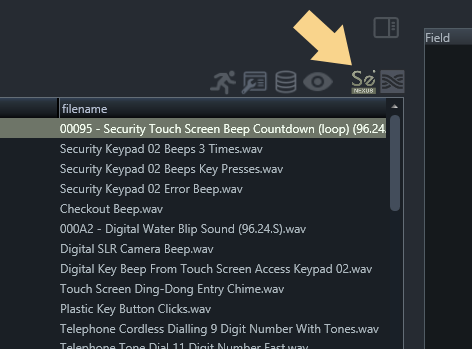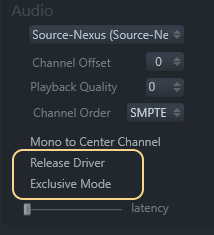 If you are using an older version of BaseHead you can manually set the audio settings by selecting the audio output to be Source Nexus B and deselect the options "Release Driver" and "Exclusive Mode"
At this point you should have audio being sent from BaseHead to the Source Nexus plugin in your DAW. If you do not hear anything, check over the setup again making sure to confirm your playback/record and DAW sample rate and bit depth all match, that you have setup and selected Source Nexus B driver, that your DAW does not have the option to release the audio driver in the background and that your track with the Source Nexus plugin is set to monitor. Check the Source Nexus plugin metering to see if you have signal flowing and try a computer restart if you have not already.
If you still have issues after this we suggest checking the Source Nexus support page or contacting Source Nexus support here (we do not offer troubleshooting support for Source Nexus related issues):
https://support.source-elements.com/
Other Options (VoiceMeeter)
While ReWire and Source Nexus are the officially supported methods for sending audio from BaseHead to another application there are many other solutions available, one we can recommend for the more experienced user is VoiceMeeter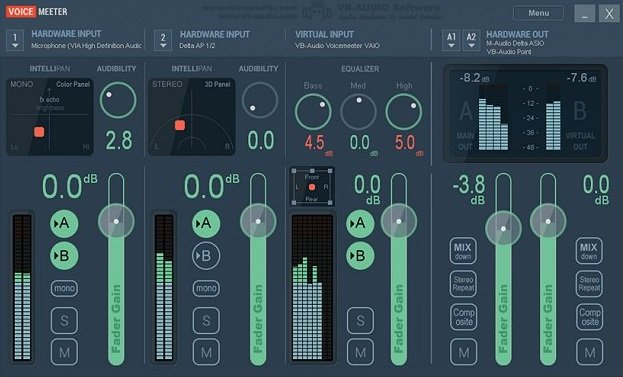 VoiceMeeter is a bit beyond the scope of explaining the setup here but it's a free (donate if you wish) download and offers a huge amount of possibilities.
Basically, VoiceMeeter is a replacement windows mixer that offers the ability to configure multiple audio inetrfaces and combine hardware inputs with virtual software inputs allowing routing between interfaces and software. There are several different versions that offer increasingly more options and it is worth looking into some of the example videos available for an idea of what it can offer.
Additionally, if you really do not need the mixer part but just a simple way to pipe audio between applications there is also VB-Audio Cable