Process Panel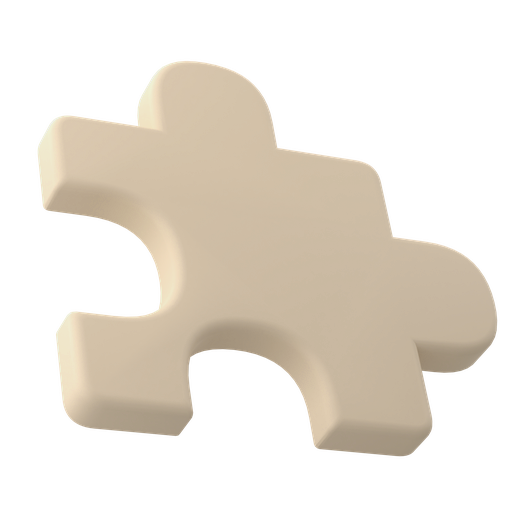 Process Panel
(Ultra / Standard Versions Only)
The Process Panel allows you to load your effects plugins which you can apply to your sounds on transfer/spot into your project. Access the Process Panel by clicking the "Process" tab on the right- Sidebar: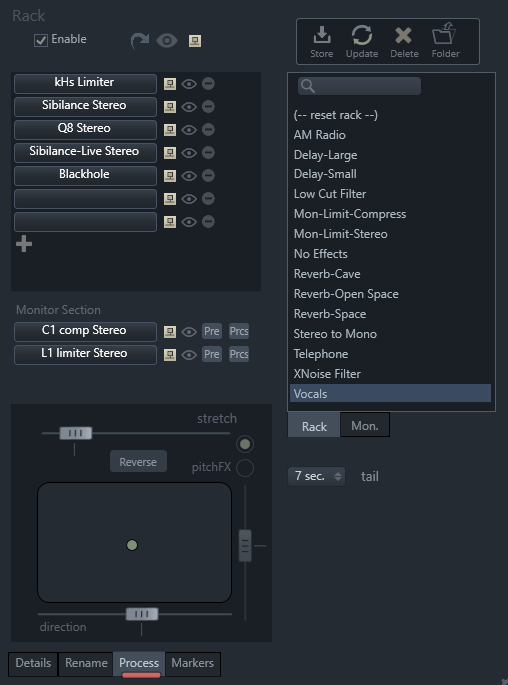 Supported Plugin Formats
We support 64 bit VST2® plugins  in the current version of BaseHead.  
VST3® support is planned for 2023.
VST® is a Registered Trademark of Steinberg/Yamaha Corp.
Scanning Your Plugins
1. Open BH and go to the Process Panel and Click the top Blue hooked Icon: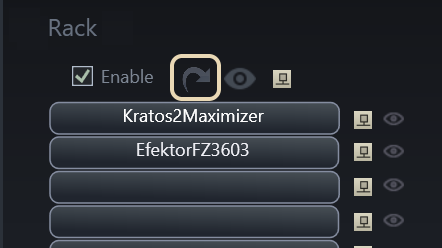 This will show the Plugin Scanning window where you can add the paths to scan for your installed plugins (note only effects plugins will be detected of course):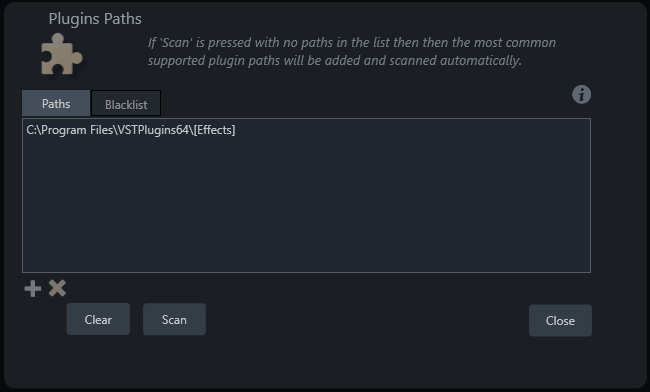 2. Next press Scan and sit back as it scours thru your plugins to make sure they are valid.
If you don't add a Plugin path for scan the default one will be added once scanning begins.
Scanning some plugins is kind of walking a mind field so might take few attempts to get them all scanned. 8)
Once complete the plugins will appear in the Process Panel Rack and then you can go to town mutilating your sounds.
NOTE: If you experience any hard crashes, relaunch BaseHead and it should Blacklist the bad plugin on next launch
Manually Blacklisting Plugins
Currently it seems that some iLok plugins will not work and seems to be the older plugins.
For example Slate Digital Plugins and GRM Tools version 3 work fine, but GRM version 2 and older SoundToys Plugs do not.
We are checking into this still, but you can easily blacklist a whole folder of plugins by clicking the BlackList Tab and then the green ADD icon and typing the folder name like i.e "grm" to avoid scanning any plugins in that folder ever again.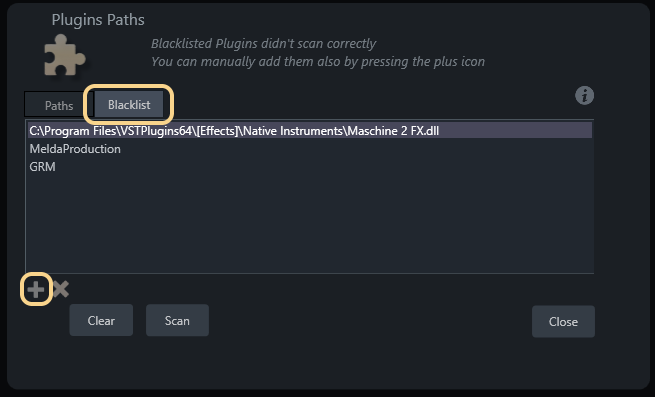 Plugins that throw up soft errors (i.e. Nuendo's built in Chopper plugin) will warn you that you need Nuendo to run it can also be manually blacklisted by just adding the words "chopper" to the blacklist. This way you never have to look at that warning again the next time you re-scan.
NOTE: Clearing the Blacklist will also clear this list if you want to do a full fresh scan.
Scanned and blacklisted plugins are stored within a separate configuration file which you can delete if you need to reset the scanned plugins/blacklist:
WIN: ..\Documents\BaseHead 5.x\VST.config
MAC: Open Terminal and enter: defaults delete com.basehead.baseheadVST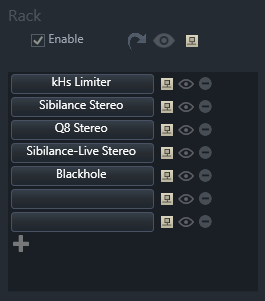 The top section of the process panel is the "Process Panel Rack" where you can combine your effects using up to 16 effects slots.
At the top are the following functions (left to right):
Enable:
Will enable/disable all effects in the rack. You can also trigger this using keyboard shortcut [V]
Plugin Scan:
Opens the plugin location and scanning window as detailed above.
Hide/Show Plugin Windows:
Will show/hide all plugin windows. Press to show all plugin windows. Hold [CTRL/CMD] and click to hide all windows. Each individual plugin slot also has a show/hide button.
Bypass:
Bypass the effects rack. Effects will all be bypassed but will remain loaded. Each individual effects slot also has a bypass button.
Adding / Removing an effect
To load an effect into an effect slot, click the slot and then select a plugin from the displayed list of plugins. To remove a plugin use the delete (-) button to the right of the slot. Click the [+] button below the last effect slot to add a new slot (16 max)
If a plugin you have installed is not listed be sure the path where the plugin is installed has been added and also be sure you have a VST2® version installed.
Reorder Plugins
You can reorder the effects by simply clicking an effect and dragging it to a new position. You will see a positional bar where it will be inserted and releasing will move the plugin to the new position.
Copy Plugin Settings
You can copy a plugins settings to another slot or preset. Just right-click on the effects slot you want to copy and select "Copy Plugin Parameters". Select the preset you wish to copy the plugin settings to and on an empty plugin slot right-click and select "Paste Plugin Parameters". The plugin will be inserted with the copied settings.
PROCESS Rack Effects Presets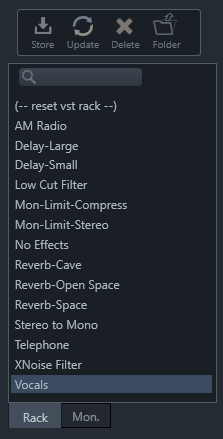 You can create and manage presets for your effects rack. Ensure the "Rack" tab is selected for Process Rack presets.
Click to load any available preset. Double click a preset to rename it.
Reset Rack: This default preset will clear all plugins from the rack.
Store: Saves the rack as a preset. 
Update: If you need to make changes to a preset, first select it to load it, make the changes you need then click Update to save the updated changes for the preset.
Delete: Deleted the preset from the list
Folder: Opens the preset folder where your presets are saved so you can manually copy/backup the saved presets.
BaseHead Process Rack and monitor presets are saved in the following location:
PC:
C:\Users\Documents\BaseHead 5.x\Presets\VST
Mac:
/Users/OSX/Library/Application Support/BaseHead/Presets/VST
Applying/Bypassing Effects on Files
The Effects Rack will be applied to your monitored audio and also automatically to any sounds you Transfer/Spot/DnD to your project. If you wish to not apply the effects rack to a certain sound but need to keep it setup, simply use the global bypass button at the top of the effects rack to bypass all effects from processing. 
Note: if you are adding effects such as delay/reverb that adds additional decay time to your sound you will need to add a "Tail" to your processing
EFFECT

Tail
This "Tail" setting is for when you are using reverb or delays so you can add extra time to the end of a file to not cut off the plugin decay.
(Not working with AIF files yet)
Monitor Section

Below the effects rack is the Monitor effects section. The Monitor section consists of 2 effects slots that are designed for you to load effects that you want to always have active for monitoring (such as a limiter) but may not want active in the effects chain when applied to a file. 
Add whatever effects you like to this section and by default, you will hear the effect but it will not be applied to the exported sound.
You have the ability to bypass and show/hide each of these effects but also the following functions: 
Pre: This button will switch the effect to "Pre Rack" so it is applied before audio is processed by the effects rack. 
Prcs (Process): This will enable the effect to be added into the process chain when you export/transfer the audio file. 
Monitor Effects Presets
Presets for the monitor section are saved separate to the effects rack. To save/recall monitor section presets select the "Mon" tab on the preset panel. 
Presets are managed in the same way as effects rack presets above but only apply to the monitor section effects.
Pitch FX Axis
Ultra Only
On the bottom half of the Process Panel we have the pitchFX Axis controls to play with.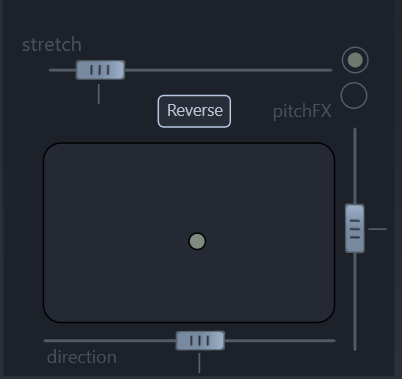 It's a standard type X/Y axis control with two different pitching modes to choose from. (pitchFX and stretch).
Just grab the green ball and whip it around to hear the difference and have fun with it! 8)
Record the crazy sounding results to your DAW.
Version 5.1 allows live recording of the audio output to a file using the Record button in the transport bar.
NOTE: where ever you left the pitch ball last will be heard when the file is processed.
Reverse File (Ctrl+R)
You can also create a temporary reversed a file from this panel also by pressing the 'Reverse' button

Video: BaseHead Process Panel
For a detailed overview of the latest features of the Process Panel check out the following video
PROCESS FAQ
Click a box below to see the answer
Why don't I see my Soundtoys plugins show up on BaseHead Mac?
These are internally blacklisted. They all crash during processing.
We reached out to the company a while back for help debugging the problem and they were less then helpful basically saying that BaseHead in not a DAW they care about supporting.
So we banned them also in return.
I do not see any effects available?
Be sure you have first selected the "Scan" option on the process tab and you have added the correct path/s to the scanner. 
BaseHead supports VST2 64bit plugins only (AU, VST3 and 32bit plugins are not supported)
Are effects applied to files or only for monitoring?
Effects in the VST Rack section will be applied to files on transfer/export from BaseHead. You can disable this using the Bypass buttons.
On the other hand, Monitor section effects are NOT applied to files on export unless the PRCS button is engaged.
Effects such as reverb are cut short when I export a file
Effects such as reverb and delays need additional processing time added to the end of the file. The the "Tail" setting to add additional time to the end of the file when exporting.