How to Apply CodeMeter CmStick License Update File
How to Apply CodeMeter CmStick License Update File


If you have received your license already you will see a 'Download' button above.  Click that to get your Update file and then drag and drop it to the CodeMeter Control Center to add to or upgrade your license on your CmStick or Ignition Key.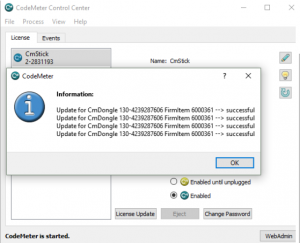 Then start launching BaseHead-CM instead of the demo version since you now have a permanent license. 
NOTE: The above CCC is only installed when you check to install -CM version from the full installer so make sure you've done that first otherwise it might be missing on your system.
Also, If you ever want to browse the licenses directly on the CmStick, just open the CodeMeter Control Center and press the bottom right 'WebAdmin' button to see what is on it currently.