Search & Results LIST
The Results Page is where you will spend most your time.
This is where all the searches are displayed that you can preview,
Search Bar
For a quick intro into the search bar see the Getting Started section
In the top left corner to the left of the "Description" field is the Green Back/Forward that works similar to a web browser quickly showing previous/next searches.
You can also press the Delete/Backspace button to cycle back and when you see the search you want you can press Ctrl/Cmd+Enter to search it to avoid too many mouse clicks. Also Ctrl/Cmd+Backspace will cycle forward thru the list.
You can still of course CLICK on it also to go back or Ctrl/Cmd+CLICK to go forward.
The Boolean searching rules were already discussed in the beginning of the manual in the Getting Started Section along with other Search Bar Features.
The bottom two search boxes have 'Browse Arrows' to the right of them. These can be used to browse the selected field in the database.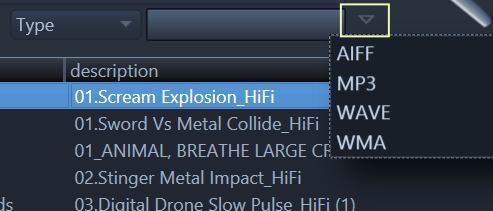 So if you just want to see all your file types in your current DB just click these arrows.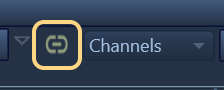 In the middle of the bottom two search boxes is a link button which enables an "AND" search for these boxes.
When this is ON the Browse Arrows for the bottom two search boxes filter off of each other so results must match BOTH search boxes. With this switched OFF, results can match either of the boxes.
You can customize the fields that are displayed in the result list and reorder their position easily. Simply Right-Click the header of the result list to select the fields you want to display and Click-Drag the headers to reorder the positions.
Snapshots will store your current result list view including the fields displayed, positions and sizing. This can be handy to create different views to see the metadata you need for a search. There are 4 snapshot slots which you can choose to store the current layout or recall a stored layout by Right-Click the header bar
Navigation
Navigating the file list is as simple as navigating files on  your computer. Use the mouse and scroll bars or use the keyboard Up / Down arrows to step through results. As you scroll each sound will play automatically which you can toggle with this button in the transport bar:
Shortcut Keys for Playback
Pause Playback = Space
Retrigger Sound = Esc
Result List Options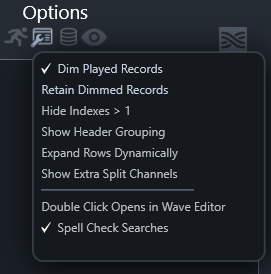 This option button (Option menu on mac) allows some options to set how files and groups of associated files will be displayed in the list. 
Most options are self-explanatory but detail on each option can be found in the Basic Functions/Menus section.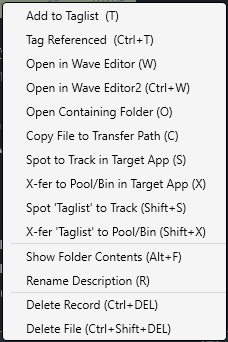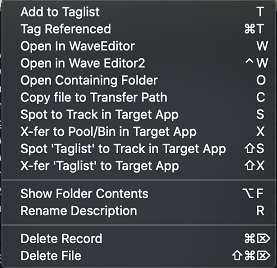 Right click options are pretty self-explanatory and have associated keyboard shortcuts to speed up workflow.