Codemeter Setup Info

If you are a new CmStick user or need to get setup initially see the New User Setup info Here
NOTE: This Article is very old but left here cuz might have some info you might need.
Other articles cover this same info in newer detail.
The Codemeter runtime software in installed with all full installers if you choose a non-demo version during the install process. You can always get it ala cart 
HERE
.
When it's installed you'll see a little new icon in your system tray.
This is where you will see what sticks are connected to this system and events and you can update the firmware also from here.
(You will NOT see your licenses here in the Control Center License tab like you'd expect)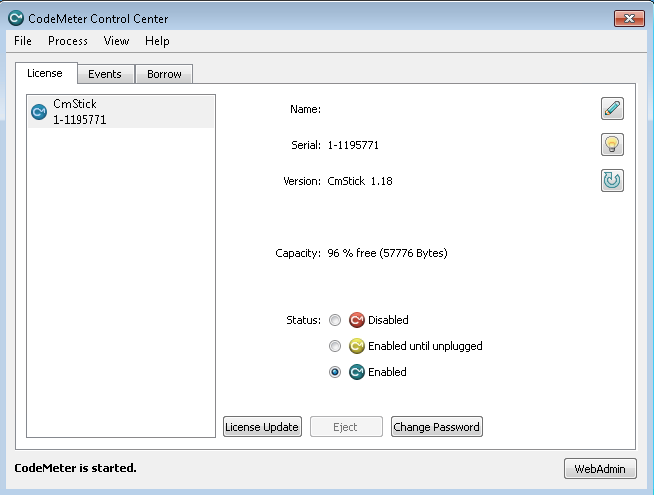 The WebAdmin is where you actually will see what licenses are on your CmStick
Click the button to launch it from the Control Center and go to Content/Licenses to see your purchased licenses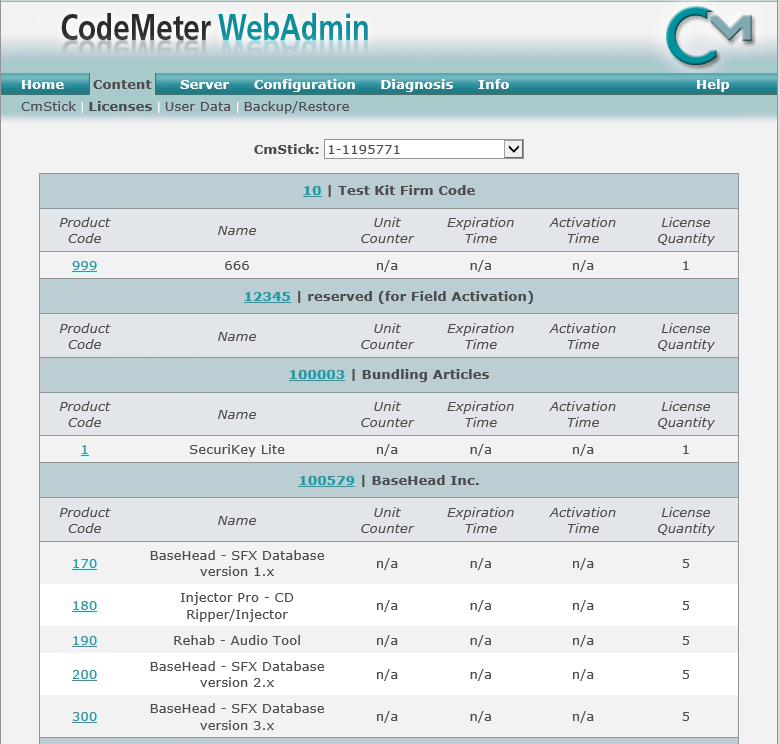 Adding a License to an Existing CmStick:
If you already have a CmStick and need to add a license to it that you ordered, then you need to generate us a Context file and send it to us after you purchase your license.
All the info on how to do that is  HERE
Steps to setting up Codemeter in a Network Environment:
A video walk thru how to set up a dongle on a Windows Home server with a mac client connecting to it
Watch Now!
Since you are a Codemeter customer now you can also contact their support at support@wibu.us
They are super helpful with codemeter setup.
[Video] Setup Codemeter to access your license thru the Web!
How to Remove the CmStick from showing up as a drive?
First off you'll need a CmStick with a serial number of 2-xxx
It has to start with a "2-" or "3-"
Then Install the Codemeter Runtime 5.0 or higher from the website
http://codemeter.com/us/service/downloads.html 
Then upgrade the firmware to 2.02 or higher from the Codemeter control center.
Windows: 
Open a command prompt and cd into the directory where the cmu32.exe is.  
Usually cd C:\Program Files (x86)\CodeMeter\Runtime\bin
Type: cmu32.exe –set-config-disk HidCommunication –serial 2-2831193
but

use your serial number instead!!

 8)

Unplug the dongle and re-plug it in to no longer see it in Explorer as storage but instead it's a HID USB device now

To set it back to a Mass Storage Device do this (using your serial):
cmu32.exe –set-config-disk MsdCommunication –serial 2-2831193
Mac: 
Open terminal and type:

cmu –set-config-disk HidCommunication –serial 2-2831193


but use your serial number instead!! 

 8)

Unplug the dongle and re-plug it in to no longer see it in Finder as a volume but instead it's a HID USB device now.

To set it back to a Mass Storage Device do this (using your serial):
cmu –set-config-disk MsdCommunication –serial 2-2831193