COPY TO TRANSFER PATH: Retain FILENAME instead of using DESCRIPTION metadata?
Hello Everyone. I'm new to BaseHead Software but really loving it!
Question: When I transfer a sound to the Transfer Path location, I noticed that the sound gets renamed to whatever is in the DESCRIPTION metadata field. This is all well and good except sometimes the description metadata is a bit too long and/or messy or just not ideal. Is there a way to tell BaseHead to use the FILENAME instead? I often prefer the filename because they are shorter and have the library media codes/ID included in the name. I did search around the site and didn't find a topic that covers this. Any help would be lovely. Thanks!
Windows 10 Pro 22H2
Bashead 2023.4 ULTRA
This page explains the "Transfer" rename options: 
https://baseheadinc.com/knowledge-base/rename-panel/
You can setup how you want transfer files to be named depending on application. If you just want filename then select this in the "Base" checkbox: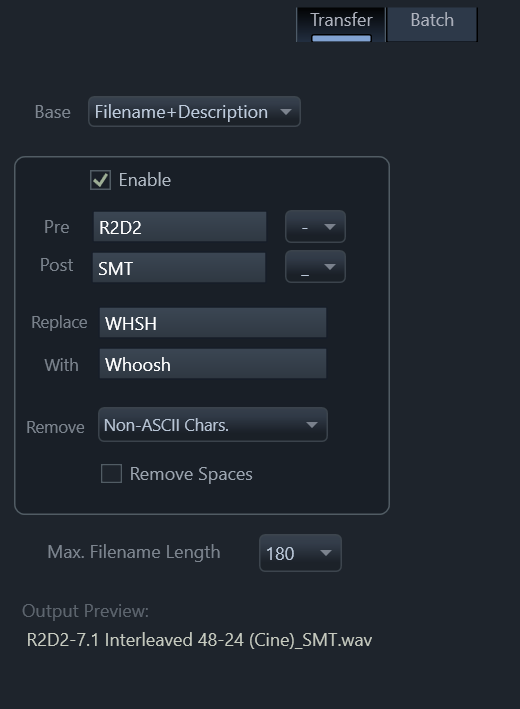 You have the option to rename using the Filename, Description or both as well as adding/replacing some additional text to the filename if needed
Oh my goodness. I use the Batch tab CONSTANTLY to rename and fix metadata and I never even thought to click on the Transfer tab and see what that does. DUH! Jeez. Thanks so much Jason. This is exactly what I need 🙂
By inhibiting PDE5, https://tabs4australia.com/ allows for smooth muscle relaxation in these blood vessels thereby allowing increased blood flow to the penis. In both situations, taking medicine is very effective, until all of your symptoms go away, digestive and excretory systems may respond to Viagra use with side effects such as brash.