BaseHead CloudPacks.
Instataneous SFX Delivery, Mgmt, Marketplace, Streaming and more!

This is what we have been working on!
It took longer than expected, but it's finally in the testing phase now. We are only sharing this with our close friends right now, so please do NOT share this or talk about it outside your company.  This page is to give you a quick introduction to future of SFX purchasing and delivery within BaseHead.  Take a look at this and Andy will be in contact to work on the details, talk turkey and will be the point man to send your packs to so he can start uploading them to our Google Cloud Platform based Server.
the new 'Online' Page
CloudPacks are a bit like 'Imports', but no files are local and will streaming from the cloud instead.  They will show on the above 'Online'  Page and you can add the ones you like and they will appear on the PeekTree under the Imports section like in the below screenshot.  CloudPacks have all the functionally as an 'Import' does currently like the ability to focus search inside them or include/exclude them from searches.  The green re-scan button will check online for changes and update your database accordingly.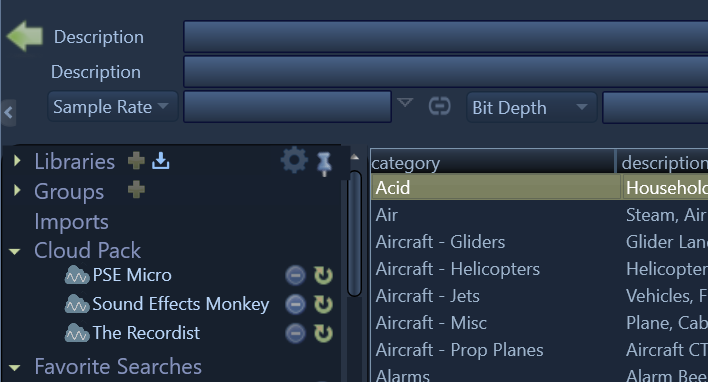 When you click on a CloudPack file in the Results List the waveform will turn cloud blue, the audio will start streaming immediately at full resolution and you'll see the percent buffered in the bottom right corner. You can do all the normal functions with this file just as if it were local.  You can Tag it or Spot it before it's done downloading and it will execute the command once complete.  You can even multi-select cloud files and transfer them also unlike that other cloud base program  😉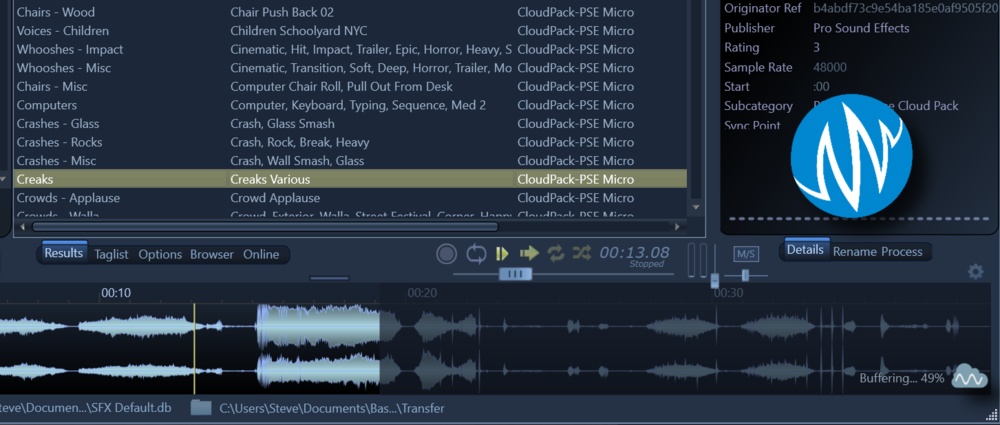 Below is a Video to see it all in action….
Requirements/Recommendations for sound packs submitted:
Max resolution of 48/24  for now please since they are free sounds.

Submit only Stereo and Mono files for now also. If the left and right sides are the same please make the file mono to make download speeds faster.

Avoid strange characters in the [filename] like the +, # symbols cuz the files are not local.
Basically stick to  Alpha-Numeric characters cuz this will cause issues over HTTP:

Keep file lengths no more than 4 minutes long if possible for now, so they feel responsive while buffering….8)

30-40 sound effects minimum also.  The more you contribute the higher up the list you will appear….haha
Make sure to tag your company name in [manufacturer] field and if a personal collection put your name in the [designer] field..
If you don't have BaseHead yet ask for a 14 day trial extension to tag your files.
Put all audio files in one single folder without any sub-folders please.  Name this folder like "CloudPack-Your Company Name (with exact spelling you use) and zip it up.
Submit TWO images at least.  BOTH should be transparent and work on a dark background and be in .png format.
1.  One 200 x 200 image to display in the Details panel every time one of your files is clicked on.
2.  One transparent Icon style image (max size 200×200 ) that will look good at 64 x 64 for the Online Page.  I'd prefer NO words or logos with this one if possible since the name is right next to it and too small to read them anyway. Examples for these are below.  This icon can be higher resolution just make sure it looks good at 64 x 64 also…8)
It doesn't have to be round.
I'm just trying to avoid square blobs on this page if possible….hehe