BaseHead CloudPacks.
Instataneous SFX Delivery, Mgmt, Marketplace, Streaming and more!

This is what we have been working on!
It took longer than expected, but it's finally in the testing phase now. We are only sharing this with our close friends right now, so please do NOT share this or talk about it outside your company.  This page is to give you a quick introduction to future of SFX purchasing with instant delivery/usage within BaseHead.  We are aiming for an early January release date so now is the time to get agreements into place and get us packs to start uploading.  Take a look at this and Andy will be in contact to work on the details, talk turkey.  He will be the point man you'll send your packs to for uploading them to our Google Cloud Platform based Server.
Here are screenshots of the near finished CloudPack Manager with build in MarketPlace.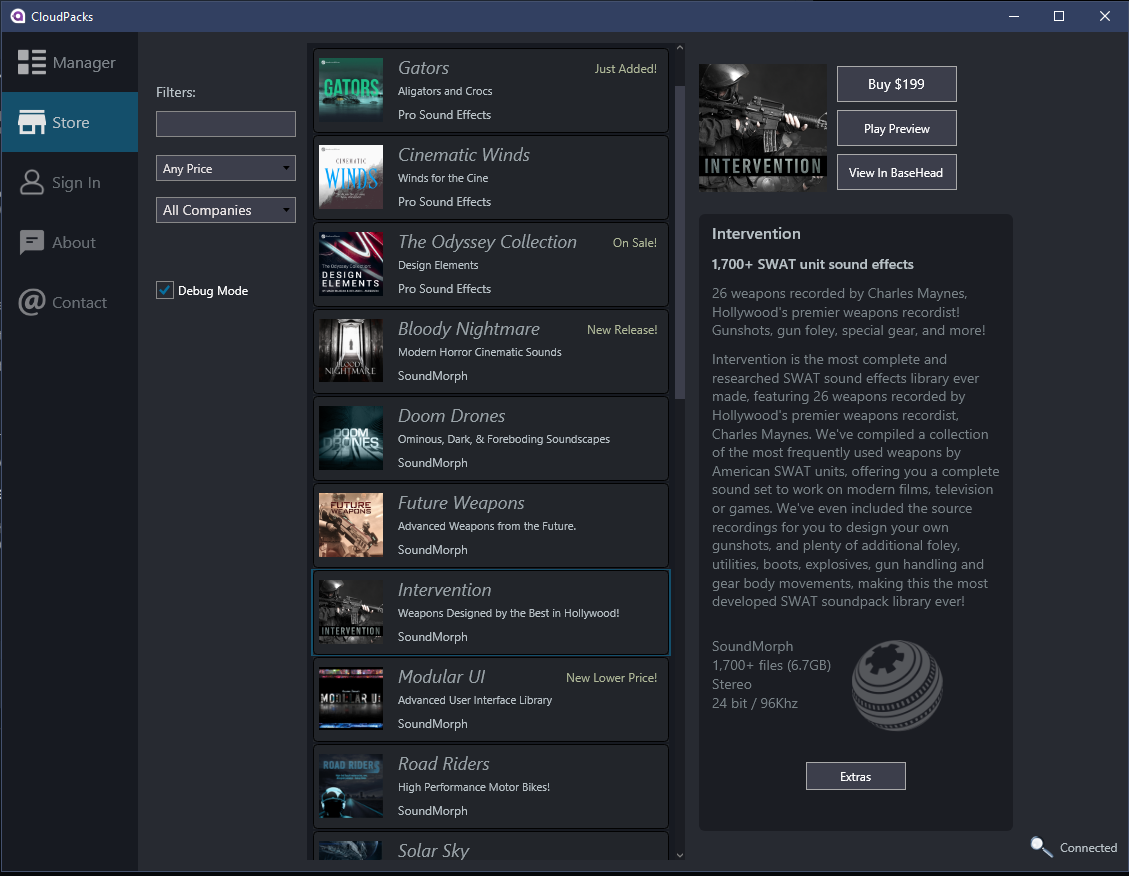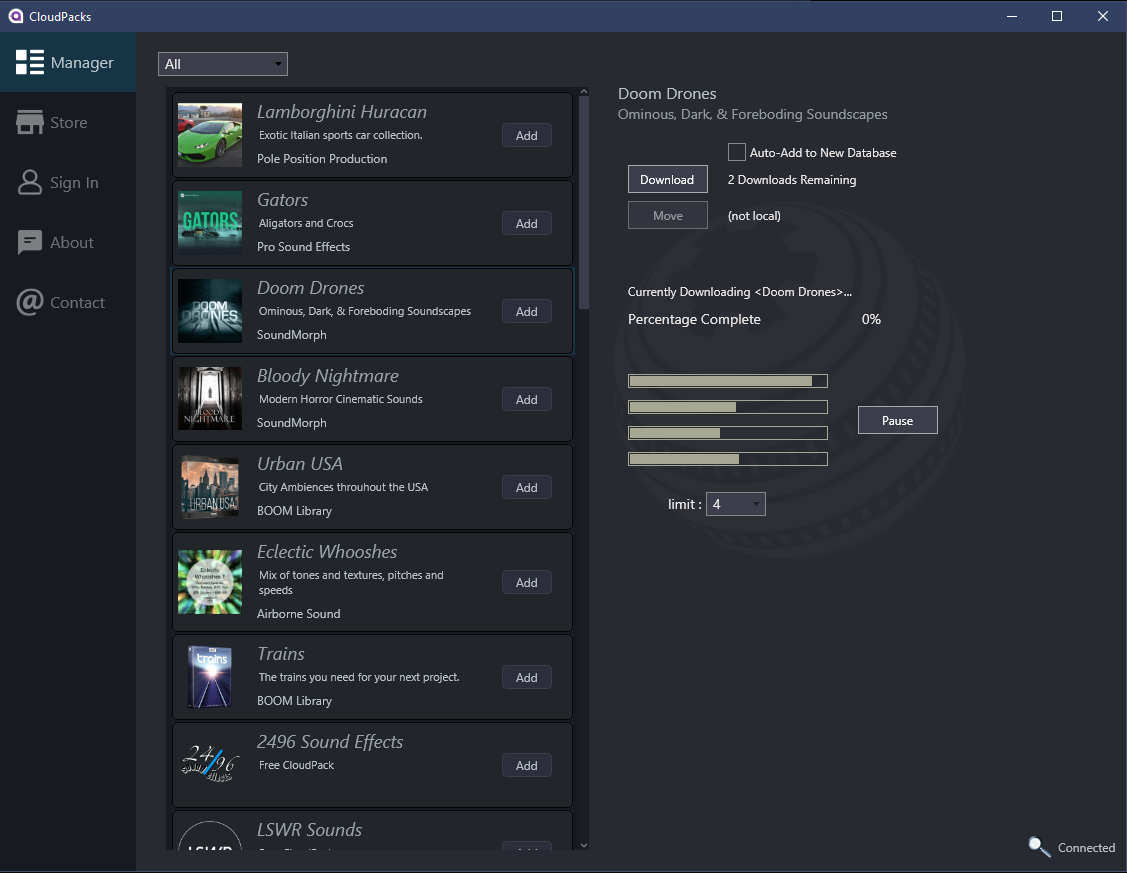 For you that haven't seen the free pack implementation inside BaseHead up till now….CloudPacks are a bit like 'Imports', but no files are local and will streaming from the cloud instead.   CloudPacks have all the functionally as an 'Import' does currently like the ability to focus search inside them or include/exclude them from searches.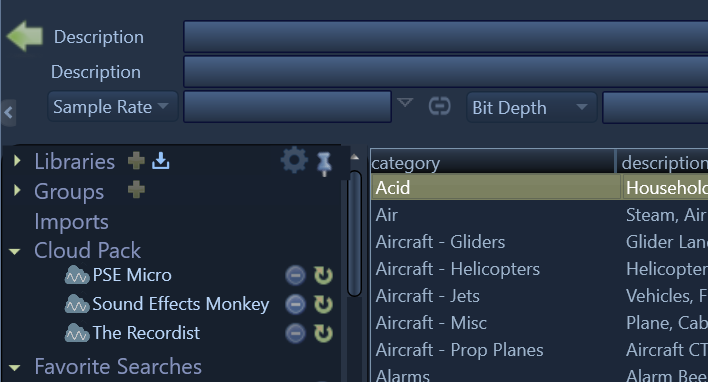 When you click on a CloudPack file in the Results List the waveform will turn cloud blue, the audio will start streaming immediately at full resolution and you'll see the percent buffered in the bottom right corner. You can do all the normal functions with this file just as if it were local.  You can Tag it or Spot it before it's done downloading and it will execute the command once complete.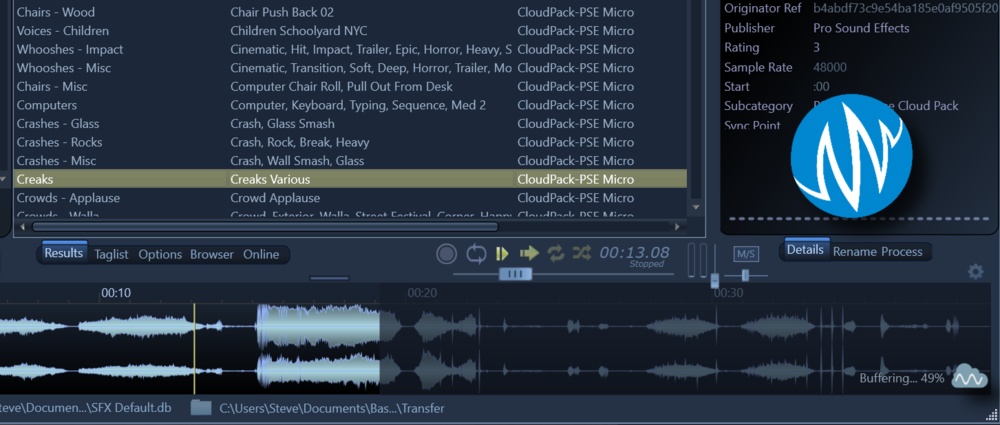 Ok….So now onto the latest info and how this new Retail CloudPacks sh*t will work….
Main features of the CloudPack Manager(CPM) and BaseHead MarketPlace

Instantaneous Delivery of your purchased Sound Effects Packs!
User can Manage/View/Relink/Localize/Download all libraries purchased from one Centralized Location
'Preview in BaseHead' Ability to Preview the any whole library in BaseHead

, it's metadata and listen to it before purchase

. (Degraded Preview and limited functions if not purchased)
No more visiting many different wonky web pages to search, play and purchase SFX.

No More Waiting!  to… download…..unzip….copy…..import,  just to use the SFX pack just purchased to not interrupt the users workflow.
No Need to Backup! purchased SFX in triplicate anymore.  Let them reside on our Google Cloud Platform and users will always have access to them at their finger tips always.
CloudPack Manager is a separate application with bi-directional communication to BaseHead and works in the background and without the need for BH to be opened. 
If you change locations of a Local downloaded library, the CPM (CloudPack Manager) it will update your databases also automatically also..
Slow internet for the day?  We have the ability to Localize SFX temporarily and release them back to the cloud when no longer needed.  (This is different than downloading them cuz the files are encrypted and can't be used outside of BaseHead)
The CPM and new Store can be used standalone without being a BaseHead user, but why would you want to be?  😉
SFX Manufacturer specific Info:
A Stripe account will be required cuz we will send payments to you immediately at time of purchase via their API.  After a purchase you will get an email notification and the payments will go to everyone involved. No waiting for quarterly statements or chasing each other down for items sold not paid for.
'Preview in BaseHead' It will be your choice between 3 different degradation

 options for previewing your libraries inside BaseHead that are un-purchased.

(Security) The paths are encrypted and can only be played if you have a user account and they are also bound to the same device the licenses is.
(Security)

You can't simply send another user your credentials to access the sound purchased.  The physical device will also need to be at the location preventing users just sending tiny database files to each other to steal all your SFX.  This is prevented

(Security) All user purchased libraries will be limited to a total of 3 downloads from the CloudPack Manager.
Higher Percentages will be given for packs not sold on other online services.
No commitment and cancel anytime, but of course streaming of these libraries will no longer be possible to users that  already purchased them and will be given a notification to download them.
We'll give you guys up to three BaseHead Ultra Subscription licenses to use in house to use as long as their SFX are being sold on the CloudPack Marketplace to make sure your metadata is BaseHead ready.  Request them from Andy.

Below is a Video to describe the above points in more detail and for people that hate reading….8)
If the Link below isn't working try this one
https://www.youtube.com/watch?v=QSQsErRgbl8&feature=youtu.be