Remapping Drives
Hello all,
I primarily run Basehead on PC because my home studio is on a PC.  Every now and then, I would have to go to a different facility that is all Mac based.  The problem that I'm running into is that when I go into the "Drive Remapping" option in Basehead, I'm not able to input and/or delete anything in the box.  It's greyed out.  I don't think it's a permission issue in Mac because it should prompt me an error.  Could anyone help me with this issue?  Thanks in advance!
If it is "greyed out" possibly you just need to click the Enable checkbox to activate the drive remap feature which will unlock the fields.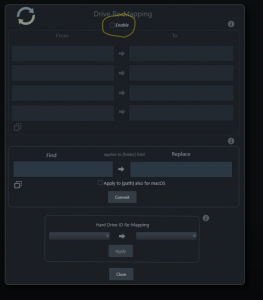 Also keep in mind BaseHead stores 2 paths. One for PC called "Folder" the other used for Mac called "Path"

If you are using the same database and files on PC/Mac and have all the files in the same structure, you can update these paths so you have one set for Mac and one for PC which makes switching easy and saves having to use drive remap constantly. 
You can change this using the "apply" field section in the drive remap above or using the batch renamer
You will need to open a support ticket if things are still not working as we need to know OS/Version, BH Version, screenshots etc
By inhibiting PDE5, https://tabs4australia.com/ allows for smooth muscle relaxation in these blood vessels thereby allowing increased blood flow to the penis. In both situations, taking medicine is very effective, until all of your symptoms go away, digestive and excretory systems may respond to Viagra use with side effects such as brash.