BaseHead 2021.1.26 BETA (Categories Tab Added)
This version brings in more CPM Master Database Search improvements and now to go along with the CatID (UCS Importing) is CatID Template Cat/Subcat browsing.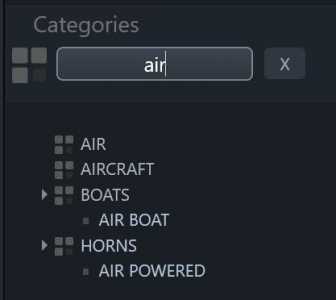 Whack the CatID button at the top of the PeekTree now to see this new Tab/Node dedicated to the selected CatID Template on the Option Page.
IKnow Issues: I'm in the middle of doing changes for the PeekTree as you will see immediately and The Playlist node needs to be double clicked to open/close in this version for some strange reason I can't figure out still.
Things added since the last release...
New Major Feature: CPM Master DB

 

New Major Feature: CatID with a UCS Template added:

 UCS import priority can be adjusted on the Chunks Panel

New Major Feature: CloudBased Floating Network Licenses
New Major Feature: CatID Tab for Browsing/Searching by Category.
Search:

Browse Arrows Height/Width fixed

UI color panel unification in progress so let us know if any colors are wildly out now.
BaseHead Server:

Error fixed caused by non-ASCII chars

BaseHead Server:

'Add' with

CPM

the issue fixed.

CloudPacks:

fixed issue with icons not shown in M and L widths

CloudPacks:

Disabled "Localize" context menu for Free Packs as it was never allowed.

FTS fix done for new Databases

Demo Mode fix done when USB Missing Device window appears.

Fixed:

Some hidden commandbar buttons were still clickable in taglist and browser tabs

Results List:

Multi-select drag issue fixed

 

Fixed:

Disabled thesaurus matches were causing BaseHead to crash if searched

Font/Size

: Moved from Options Page to Results List right click header now since only affected the Results List anyway.  The same control is coming to other pages/panels soon also to give you more control..

Improvements done for first time users launching it the first time.

Browser Page:

Metadata viewer works on this page also now.

Wwise:

Settings icon reverted

PeekTree: Icons added to each node.  Not sure if I will keep the colors yet.  Still playing around with ideas  😉
 
Download Link:
https://storage.googleapis.com/basehead-downloads/BaseHead/BETAS/BaseHead_PC_Installer_v2021.1.26%20BETA.exe
By inhibiting PDE5, https://tabs4australia.com/ allows for smooth muscle relaxation in these blood vessels thereby allowing increased blood flow to the penis. In both situations, taking medicine is very effective, until all of your symptoms go away, digestive and excretory systems may respond to Viagra use with side effects such as brash.