Newby teething problems
I am totally new to BaseHead. Yesterday I imported two folders of files into a new database. I opened the same database today and there is nothing listed under Imports but the files still appear in History. Am I missing something?
Thanks
Am I missing something?
Probably 🙂
Firstly, be sure that when you first start BaseHead you press the key stated to "load" your database otherwise your imports will not display. In the waveform display it will tell you on Win to press "any key" where mac you press "Space" 
This initiates the currently selected database to load, otherwise if you use multiple database files you switch between at this point you can instead choose to select a different db file with the db selector in the lower left of screen.

Thank you - I discovered that I had two databases with identical names and different paths. Now I have my imports back - thanks for your help.
Try a preference wipe which should clear all the database paths out of BaseHead, then just select the database file you want to use after load and it should be the only one available in the combo apart from the default basehead database: 
Open the Terminal program and paste in the below code:
defaults delete com.basehead.BaseHead
IMPORTANT!! If you cleared the main BaseHead preferences you should see the welcome screen on launch. If you do not see this... 
Do the above one more time (copy the command as it must be exact as written)
Empty your Trash
Reboot your Mac
2. If the above doesn't fix your problem, more additional preferences are stored here that you can start renaming one at a time until your find the problem one or the whole folder and let them re-build
<user>/Library/Application Support/BaseHead/
if you can't find see this above folder then open terminal and enter this:
 chflags nohidden ~/Library/ 
A different question - does Basehead work directly with MOTU's Digital Performer?
It does not have direct integration (you can check in  the OPTIONS tab under Target Application for supported applications):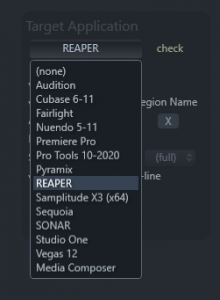 However using Drag-n-Drop should be supported by any application but for the more integrated spotting functions direct to the selected tracks timeline, a supported application is needed and personally I use Reaper for this kind of thing, but also use Ableton Live which does not have a method to allow spotting to be integrated unfortunately but DnD works just fine in this case
Bit by bit I am getting my head around the way to work with Basehead. My task is to work my way through around 20 hours of audio recordings that are pretty abstract. I need to chop them up into manageable chunks and group those into sound categories. Each file is around 30 mins long.
My thinking is to work with the whole files and then tag the sections I want to use. I have noticed that my tag list doesn't remain for next log-in unless I specifically save it.
I'm not sure how to add the required metadata to these newly tagged files. I want to name and categorise each for future searching.
Is this the best workflow for me? I am intending to work with the Standard Edition of Basehead so I am working with a demo of that.
Thank you
Hard to say what workflow works for someone as it doesn't work fore another. 
If you want to add and edit metadata you will need to use the Ultra version, Standard allows basic adding of description only. You add details in the Details panel by setting the fields you need to be able to edit in the details panel options then just double click fields to add details. I'd suggest switching to the Ultra version in Demo mode because if this is what you want to be doing, this is what you will need. 
If you want to make exported edits of your longer recordings and then be able to easily add metadata to these here is a workflow that should work: 
- Create an Import where you will place your raw recordings so you can scan these in easily to select. 
- Create a directory on your system for your edited files to be placed where you want to save your edits to
- Create a new import and set this to the folder you just created
- Select the Transfer Path to the folder above that you just created by clicking this path: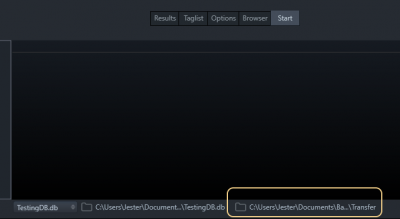 Now, make your edits and just press "T" to save a selection to your transfer path. Once you have made your edits simply scan your edits library you created and these files will be imported to the database where you can add details etc using details panel or the batch renamer to batch add details to multiple files at once. 
NOTE: If you need to easily switch between multiple transfer paths for sorting sounds as you transfer, just create more folders and use the transfer location to select the new folders. These will be saved for you in the PATHS node in the PeekTree so you can quickly switch back to them at a click: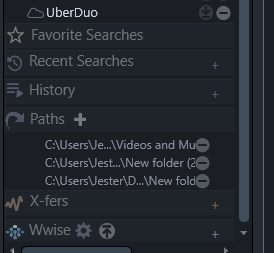 By inhibiting PDE5, https://tabs4australia.com/ allows for smooth muscle relaxation in these blood vessels thereby allowing increased blood flow to the penis. In both situations, taking medicine is very effective, until all of your symptoms go away, digestive and excretory systems may respond to Viagra use with side effects such as brash.