NEW PANELS
Here are some of the new panels/windows in BaseHead 5.x in bit of detail to learn about.
THE QUICK ACCESS PANEL (F2)
The 'QAP" is used many things including…
UPDATE: Now support 10 channels and includes metering!
Solo/Mute of individual channels.  These channels will also transfer as you hear them now also
Extracting Individual Channels by pressing the 1-8 buttons.

 

(can use your keyboard also)
You can Sum the channels to mono by pressing the purple "M" button
Down mixing to Stereo or Mono buttons also exist on this panel.
This panel also includes a few options that you might wan fast toggle access to multiple times per day like "Reference File When Possible", "Spot with Handles" and "Spot Multiple Files Inline".
Send us a suggestion if you'd like another option added to this panel.
FYI….Clicking  the 'Extract', 'Solo', 'Mute' or 'DMix' labels will reset them
METADATA VIEWER WINDOW (F3)
This new panel will show the RAW metadata in the files themselves.   Think of it as a file Metadata Browser.  If there is a value BaseHead doesn't seem to be importing, you can use this page to investigate internally in the file to see if it  truly exists and in which chunk and if it's  actually readable or not.  
Our competition encrypts most their metadata (out of fear) and this panel will reveal all. 
This is also a handy tool for SFX Library Manufactures to check their files before shipping a new library to their users.
FYI….Press "F3" to show this window.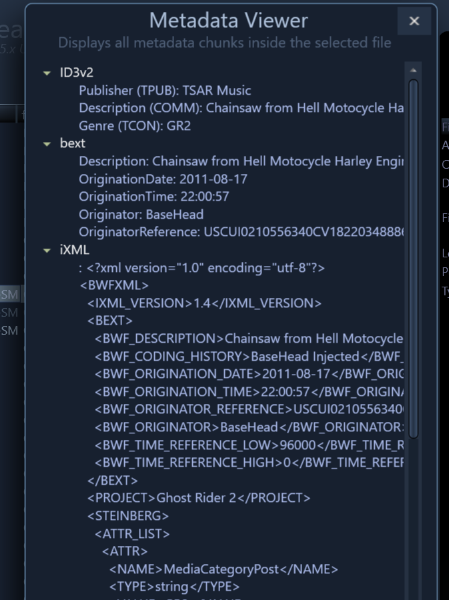 MASTER METADATA CHUNK WINDOW (F4) 
This panel gives you full control of your metadata of virtually each chunk we read, write and what is included in newly transferred files.
NOTE: The panel is for ADVANCED USER ONLY!  
If you are not an advanced user or this panel confuses you then leave at the default settings, close it now and never look at it again…..hahaha   8)
PROCESS PANEL: PITCHFX AXIS PANEL
The pitchFX Axis is fun little addition that allows you to grab the pitch ball and tweak your sounds up/down and back and forth.  It has two different pitch mode parameter.  One stretches and one pitches.
Also on the this panel is a Reverse button (Ctrl/Command+R).  This button will create a temporary physically reversed file.  The Waveform will turn purple to indication that it's been reversed. 
Newly created files will be processed with these pitchFX settings or you can record the live movements into your DAW or wherever BH is currently routed to. 
(Recording of the output directly inside BaseHead will come in version 5.1)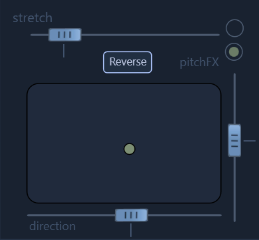 ONLINE PAGE
We just added a new tab named "Online".
This page will have many new additions, but the current hot addition are CloudPacks! 
In version 5.0 we partnered with a bunch of SFX manufactures like Pro Sound Effects, BOOM Library, SoundMorph….etc to give you free sounds  that are 100% streamed from the cloud.  Simply click the 'Add; button and you will see the CloudPack appear in the PeekTree. You then have all the same control as a local file inside an 'Import'.  The waveform will turn blue when streaming and the main differences is you're the files are not stored local until you transfer them.
In 5-10 years no one will have a local HDD or SSD with their SFX on them  Everything will be stored in the cloud and BaseHead is ready for this future today!
Wanna add a SFX Collection to this page or want to learn more about this feature head over to THIS PAGE!
VST Improvements:
Many VST improvement we done in version 5.x.  
Since BH is now x64, make sure you scan your 64bit plugins now also.
New VST Picker with Filter Search so finding that one plugin out of 350 is a breeze now.
Improved VST Scanner from previous version.
Preset system writes in .fxp file format now so you can load up the presets into other programs
gs.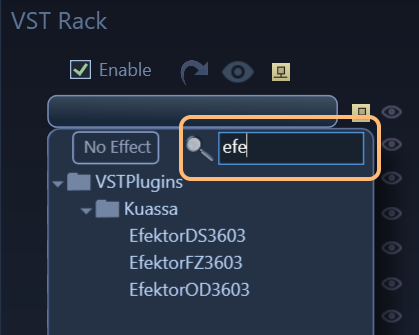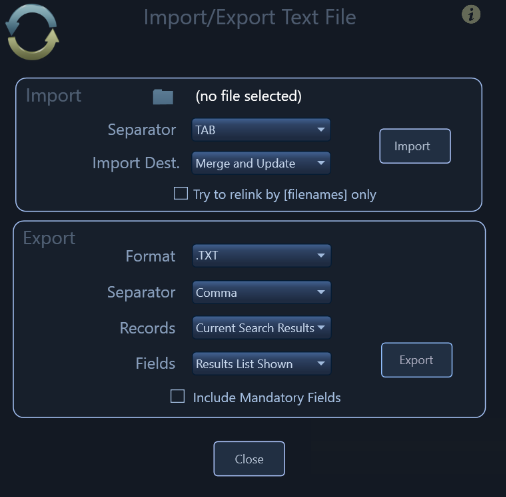 IMPORT/EXPORT TEXT FILES PANEL
Many people have asked for a way to Import/Export text files with BaseHead.  
We listened, so here its….8)
Imports and Exports these file formats now. (.tsv, .csv, .txt)

 

as Tab Delimited or Comma separated, Semi-colon separated.
Importing can either "Merge and Update" with exiting Records or "Create a new Import"
Exporting has many options to choose from also
Also…..it imports the main two "rival" programs text files also so you can ditch their crappy, crusty, closed format programs and migrate over to BaseHead and never look back and live in happy BaseHead open format free land now….;-)
New Marker Panel:
This major feature arrived in version 5.1 and you can find it in the right sidebar.  It's  editing and adding CUE, Loop and Region Markers that are compatible with the likes of SoundForge, Wavelab, TwistedWave and OcenAudio etc…
You can also move and delete markers direct from the waveform.
Nuendo/Cubase Sync points can also be edited from here.