ACTIONS
Below is a list of a fraction of the new hot actions added to version 5.x
Database Menu Actions: 
Remove 'Offline Media'
removes are records in the current Results List that are not online.
"Create 'Import' from Database 
This allow you to import an existing Database as an 'Import'.  This can be handy if your buddy hands you some files to check out that you might not want to keep full-time in your DB.  IF it's imported as an 'Import' you have full control when you want to remove it. 
Reset ALL Records to Visible
toggles all records to visible if any were set previously to 'hidden'
Show 'Offline Media'  
shows any records that are currently offline of the current Results List.
SQLite "Rebuild Indexes"

 

function to create and rebuildindexes for increased speed for Text File Importing and 'Import' Re-scanning..
Import/Export Text file
(read all about this new window in the Panel Section)
Process Panel: File Reversing Function (Ctrl/Command+R)
This new 5.x Action will create a temp file in Reverse to have your way with like a hi-priced call girl  8)
Pitch it, Stretch It, Tagging It, Process It with some VST's and….Transfer it!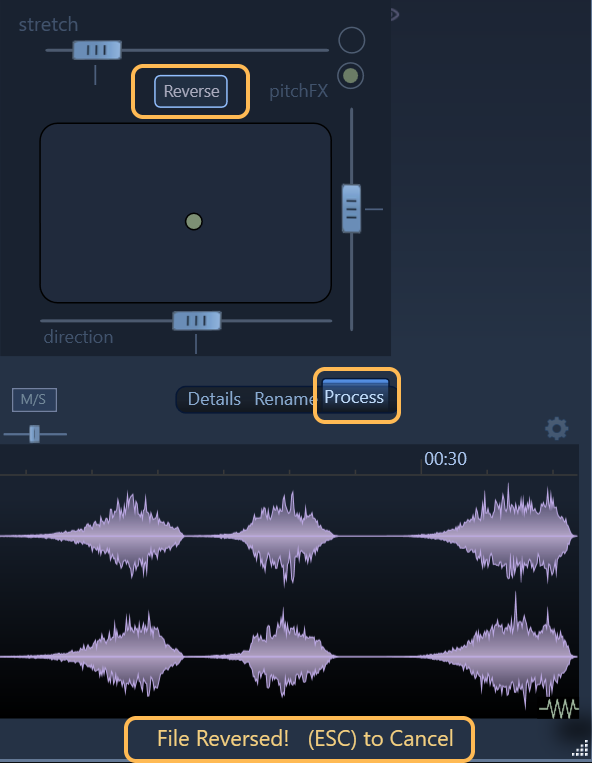 Burn In Metadata:
This new Action Panel would usually be used after Importing a Text File that has been edited in a spreadsheet editor OR was from a "rival" program.  This Panel will help you burn the newly imported values into the files Physically or if you set BH to not write into files always you can use this panel to burn in all your changes.
"The Roof….The Roof….The Roof is On Fire!"        name that tune! 8)
Details Panel: Create Group from 'XXXX'
You can now right click a value in the Details Panel and create a 'Group' with this as the name including all records with this same value of the right clicked selected [field]
In the example in the screenshot to the left, it will take all my files I have tagged for the "Harry Potter"game I tagged in the [project_name] field and create a new 'Group' named "Harry Potter" and put all these files into the newly create 'Group' it all in one go!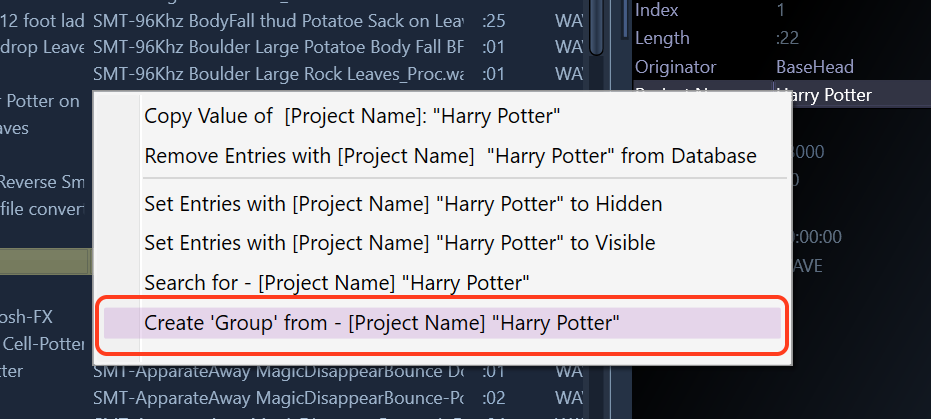 THE WRAP UP!
The Libraries have new actions also like "Remove Offline Media"…
Importing has 30+ improvements…..
Hell….Pretty much every damn area of the program has been enhanced since version 4.x and I'll be honest.
I'm tired of typing and making screenshots already and talking about the changes….haha
It's best you see for you own eyes why BaseHead 5.x is the powerhouse SFX searching Beast that really has no equal.
Download it….Play with it…..Spread the word about it….So we can keep delivering you cutting edge features for years to come!
Steve Tushar